As I do every year, I want to congratulate the current class year on completing your Harvard degree. Your Harvard degree provides you access to important advantages and benefits as you go through life. About two months after you graduate, the bursar's office will be sending you an alumni card that looks like this.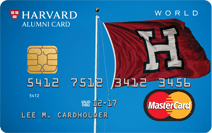 Make sure not to lose this card.
I am going to give you a lot of information on the benefits and rewards you receive by being a Harvard graduate. Normally I have handouts at this point, but there was a problem with printing, so just take notes on your iPhones and things. There's a web site with all this information on it. Before the end of the presentation, I will… try to get that web site address for you.
Harvard alumni get free upgrades from economy to first class on any airline trip within the lower 48 states. This is a really valuable benefit, so make sure to use the Harvard discount code when booking.
When you enter a boardroom during a board meeting, all people who graduated from non-Ivy League schools must stand at attention until you are seated.
You receive 15% off any Disney multi-park pass, Tuesday through Thursday, holidays excepted.
The Band-Aid corporation provides you free Band-Aids in our own computer matched skin tone. Click on the "Harvard" link on www.band-aid.com .
At most four-star hotels, when you check in, you will receive a special bar of soap that deep cleans without drying out the skin. This should happen automatically; you won't need your card for this.
You get a special dispensation that allows you to drive up to 75 mph in 55 zones. If a police officer pulls you over, present your alumni card, and the officer will scan the barcode into a computer. At this point, you pay the police officer $1, and then you should be permitted to leave. If he detains you at this point, make sure to contact the bursar's office.
Some of you own apartments and condos. If one of your tenants has just been married, you may at your option sleep with the wife or the husband or both during the first night of their marriage. But in fairness I must tell you, times are changing. Since 2005 this has become frowned upon and rarely happens anymore. So, I am not going to tell you what to do here, but try to use good judgement, okay?
Also, Harvard alumni have seniority when a group is deciding who will lead the Pledge of Allegiance.
For a while we got a dollar off any KFC $5 Fill Up Meal, but I think that expired. Does anyone know if that expired?
Other than that, I can't think of anything. So, that's it… welcome to the society of educated men and women.