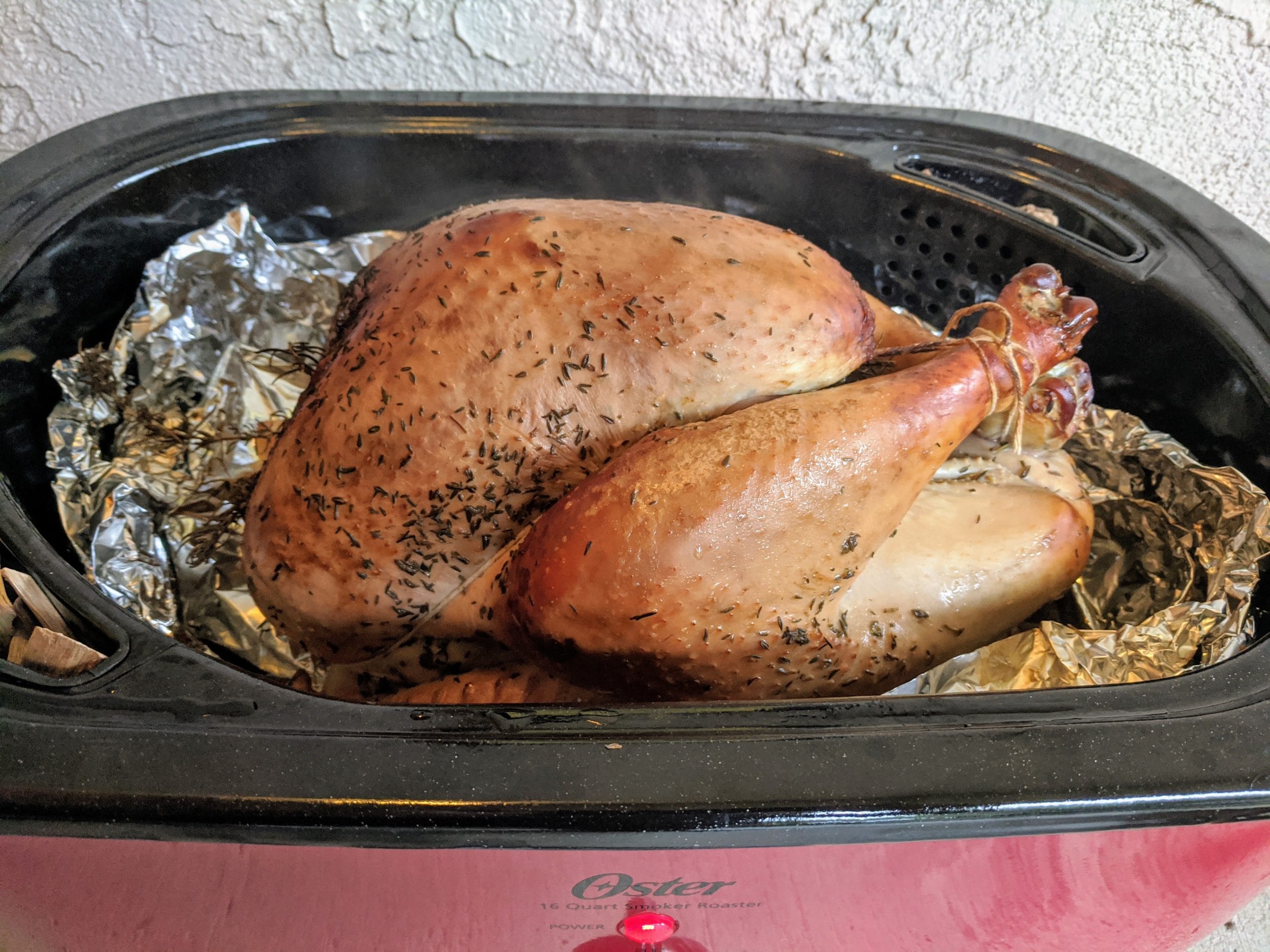 Here is the Best Thanksgiving Turkey that can be made with commonly available store-bought ingredients and tools.
This is a pecan-smoked turkey with rosemary and thyme aromatics, and it will be, by far, the moistest and most flavorful turkey you have ever tasted.
Brine your bird in overnight in salt, sugar and peppercorns; then, season and smoke your bird slowly at low temperature, with moist heat, in a smoker roaster. This will result in an incredibly moist, incredibly flavorful turkey, that is a HUGE leap in quality over classic oven methods.
A bird made using this method will keep well in the fridge. Sandwiches and other things made with leftovers, will be especially tasty.
Oster manufactures a smoker roaster; it's about $60 on Amazon as of this writing. Most hardware stores stock pecan wood chips for smoking, but it's available on Amazon as well.
Ingredient measurements are approximate. For this recipe, measure amounts with your heart, not your cups and spoons.
This recipe comprises lessons learned from hundreds of turkey recipes and dozens of turkeys cooked over thirty years. Thus, it can be objectively described as the Best Thanksgiving Turkey.
—
1 1/4 c salt
1 c brown sugar
1/4 c peppercorns
1 10-14 lb turkey, fresh or frozen
1 onion
4 sprigs fresh rosemary
2 sprigs fresh thyme
2 c white wine (whatever you have open in your fridge will do)
6 T butter, softened
1 1/2 c pecan wood chips, for smoking
—
Choose an outdoor location for safely smoking with the smoker roaster. You will require electrical power for the smoker roaster. Do not smoke food indoors, and do not smoke where your roaster can be rained upon.
Prepare brine by mixing 1 c salt, the brown sugar, and peppercorns in a clean, food-safe cooler, bucket, or other container of sufficient size to hold the turkey.
Remove giblets, neck, and any plastic trussing from turkey. Reserve these for making gravy if you wish. Add turkey to cooler. Cover turkey with water. Brine bird by keeping cooler cold for a day; you may refrigerate it or top it up with ice.
The day of your event, line your smoker roaster pan and its rack with wide aluminum foil, making sure not to cover smoke vents.
Coarsely chop onion. Clean rosemary and thyme. Chop thyme leaves finely.
Remove turkey from brine; drain. Place turkey on rack and place rack in smoker roaster. To stabilize turkey on rack, position wings upward, behind where turkey's neck would be.
With clean hand, gently separate turkey skin from breast with your fingers, starting from cavity. Try not to tear the skin and try not to move it much out of place.
Generously rub 1/4 salt, butter, and thyme, underneath turkey skin onto turkey breast.
Put sprigs of rosemary and coarsely chopped onion into breast cavity. These are aromatics only; do not eat these. If you want stuffing, prepare it separately. Do not cook stuffing inside your bird, as this cooking method does not achieve a safe temperature for this purpose.
Add pecan wood chips to smoking cups. Make sure smoking vents in pan are not covered by foil.
Add wine to smoker roaster pan. Place rack into smoker roaster pan, and then pan into smoker roaster, in your chosen outdoor location. Cover with lid.
Set temperature to 200 F (two hundred degrees Fahrenheit).
Roast bird for approximately four to five hours, more or less.
Every half hour or so, baste the turkey with its drippings and wine, using a turkey baster.
Temperature control during cooking is key. If your bird is cooking too fast for your party, you may need to pull the temperature back to 175 degrees F; if your bird is too slow, you may need to rush it along at 225 degrees F or higher. You may even hold its temperature below 150 degrees F. The slower you cook your bird, the juicier it will come out.
Your bird is done when a digital thermometer, inserted in the deepest part of the breast against the breastbone, reads precisely 165 degrees F. Measure temperature precisely; do not estimate temperature through other methods. Your bird's skin will be quite dark due to the smoking.
Unplug roaster smoker. Move roaster smoker indoors. Let bird rest covered in pan for ten minutes or so.
Insert a large serving fork in neck and a large serving fork into bird cavity. Lift bird slowly and carefully onto serving platter. Note that the bird may be lightly stuck to rack. Use caution while removing to avoid burns.
If you choose to make gravy, do not use turkey pan drippings for it; smoked turkey drippings tend to be too bitter for this purpose.