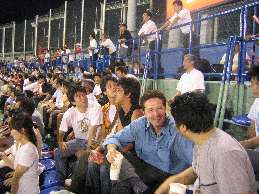 The Japanese are nuts about baseball and it's still a sport for the masses here. Hirasaki-san has kindly purchased tickets for a Japanese major league baseball game. The air is humid but picking up here at Jingu Stadium.
Now the teams playing tonight are the Yakult Swallows versus the Hiroshima Carp. Now you might think it would be difficult, nay impossible, to do a baseball cheer either for carp, or for swallows. You would be mistaken.
And I know what you're thinking about calling an entire baseball team the Swallows, and that's just not right, so put that out of your head. Let's say you're rooting for the Swallows and you want to show your team support. What do you do? You take out your big green umbrella, of course, and you bounce it up and down, while singing the team song, Tokyo Ondo, at the bottom of the seventh.
That's what you do, if you're a fan of the Swallows.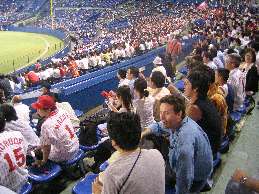 The seventh inning stretch comes up. The Carp contingent doesn't sing "Take Me Out to the Ball Game." Instead, the Carp fans inflate all these rubber balloons (see, you're back thinking about the Swallows again, and I told you to stop thinking like that) and we sing the team song and then we let the balloons go and they float into the sky just like… well… here's a QuickTime movie.